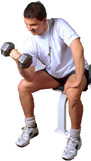 Hey Guys, wanna change the way you look & feel – FAST?
Would you like to have sculpted, toned muscles and chiseled abs that command attention?

Whether you want to transform your body to improve your looks, your health, your athletic performance or your sex appeal, the Tymor Bootcamp for Men will get you there in the shortest amount of time possible.
Come join us for a fun fitness bootcamp led by Certified Personal Trainer and fat loss expert, Bob Thomson. Men of all fitness levels and abilities are welcome to participate.
Tymor Boot Camp for Men is a powerful, results-oriented body transformation and maintenance program that allows you to build muscle and lose fat without deprivation or calorie counting.
Each 4-week program includes:
"Before & After" photos (optional)
8 – 12 1-hour, fat-busting bootcamp sessions
Exercises include calisthenics, resistance training, cardio kickboxing, dumbbell training, natural & manmade obstacles, agility drills, light running mixed with walking & abs/core training.
Nutritional guidance & motivation
Training, Goals & Calorie Tracker, Grocery Lists, Meal Plans, Body Comp Analysis
Recipes and meal plans including "power foods" for burning fat & building, toning muscle
25-page Nutrition Quick Start guide for burning the most fat & improving health
Free Online Health & Fitness Magazine ($79 per year value)
Free lifetime subscription to my bi-monthly newsletter "Get Fit"
Lifestyle coaching
and more…
This program is a fun, unique and simple way to get in shape — and stay in shape! This program is not just for men who want a significant body transformation, it's for any man who wants challenging and fun NEW way to maintain health and fitness. All men are welcome!
Bootcamp Groups Schedule for Spring & Summer 2018
All Bootcamp Groups meet on Mondays and Wednesdays (Fridays when demand permits).
The following Bootcamp Groups are available for you to join:
"Early Evening" –  6:30 PM to 7:45 PM (Co-ed)
Each bootcamp program is 4 weeks in duration and includes 8 – 12 fat-busting sessions.
Bootcamps meet rain or shine. For severe weather, we'll postpone or move indoors when possible.
Fitness Bootcamp Pricing
$240 per bootcamp for 12 sessions/month OR $160 per bootcamp for 8 sessions/month.  Worth every penny considering you'll soon be in better shape than most 20 somethings.
Acceptable Payment Methods
Check, cash & credit card via PayPal.com
What to Bring to Bootcamp
Large water bottle, large towel, exercise mat, 5-15 lb dumbbells
What to Wear at Bootcamp
Please dress appropriate for the weather: shorts, sweats, tank tops, t-shirts, sweatshirts, breakers, good sneakers (cross trainer or running shoes, no tennis shoes, skips or flats).