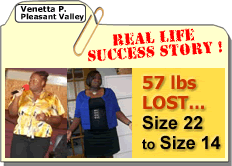 There's nothing quite as inspiring as a truly jaw-dropping before and after picture. I'm talking about a 50+ pound weight loss where they look like an entirely new person.
It's striking how much younger people look when the extra fat comes off. An attractive, happy, energetic person was inside of them all along.
Many popular magazines showcase transformation success stories like this at the beginning of a new year. Flip through the pages of before and after photos and it's hard not to feel inspired to make healthy changes in your own life.
It's also interesting to read how each person managed to lose all the weight. What was their exercise routine? What diet plan did they follow? The truth is that there are many routines and plans that bring success.
The key is to choose your plan and stick with it.
Of course, this is where things get tricky, during the stick with it period. This is when life tempts you to lose your focus and get lazy. This is when even the best intentions don't help you win.
Below I have compiled a list of Best Body Transformation Tips that came from the mouths of those who have actually done it. Every tip below is from a fat loss champion who lost 50+ pounds and some even half of their body weight.
Fat loss is 80% mental and only 20% physical. Get your mind right if you want to succeed.
Focus on non-scale victories like how your clothes fit, how you feel, and how much healthier you are.
Fix what's going on inside before you attempt to fix what's going on outside. The mind is a powerful part of your transformation.
Don't stress as much on what you are eating, but instead on how much you are eating. Keep calories under control.
Find a workout routine that you won't be bored with, so that you'll stick with it.
Stick to your workout plan no matter how tired you're feeling that day. Push your body through the motions even if you're tired.
Don't be afraid to make healthy changes. You have nothing to lose and so much life to gain.
Use a slow cooker to have healthy meals on hand to avoid unhealthy meals. (See the recipe below!)
Use a fitness app to log your meals, workouts and water consumption. This helps to stay on track on those days when you aren't feeling it.
Try eating leafy vegetables and protein throughout the day to increase your energy. As a bonus this also increase the speed of your results.
Find a plan and stick with it. Jumping from diet to diet never works in the long run.
Get creative with your healthy eating by trying out new recipes. This helps prevent boredom from creeping in.
Find and accountability partner who will keep you going strong with temptation hits.
Make healthy changes gradually. If you ate a whole pizza yesterday then don't swear pizza off completely. Just eat one slice today.
Don't give yourself the option of giving up. If you messed up then pick yourself back up and keep moving forward.
Remember that the best part of getting into shape is not the six pack. It's about improvements to your self-confidence and overall outlook on life.
Be willing to ask for help. Seeking the help of a knowledgeable fitness professional is to ensure that your efforts are safe, effective and successful.
The BEST Tip (don't miss this one!)
This tip is the linchpin in every transformation success story. And that is why this was the tip that was mentioned time after time, by the people who went through the pain of losing half of their size through old fashion healthy eating and exercise.
Fat loss starts in your mind.
Before you start counting calories or signing up for exercise plans, you must get your mind primed for success. Do this by imagining the new you, after the weight comes off. What do you look like? How do you feel? What does your fit lifestyle consist of?
Dedicate a portion of each day to mentally focusing on your transformation goal, until the idea of a new you feels inevitable. And then get started on the physical work of achieving your goal!
Are you ready to unleash that attractive, happy, energetic person that's hiding inside of you? I'm here to help you do it. Call or email me today and we will get your own stunning transformation started!