He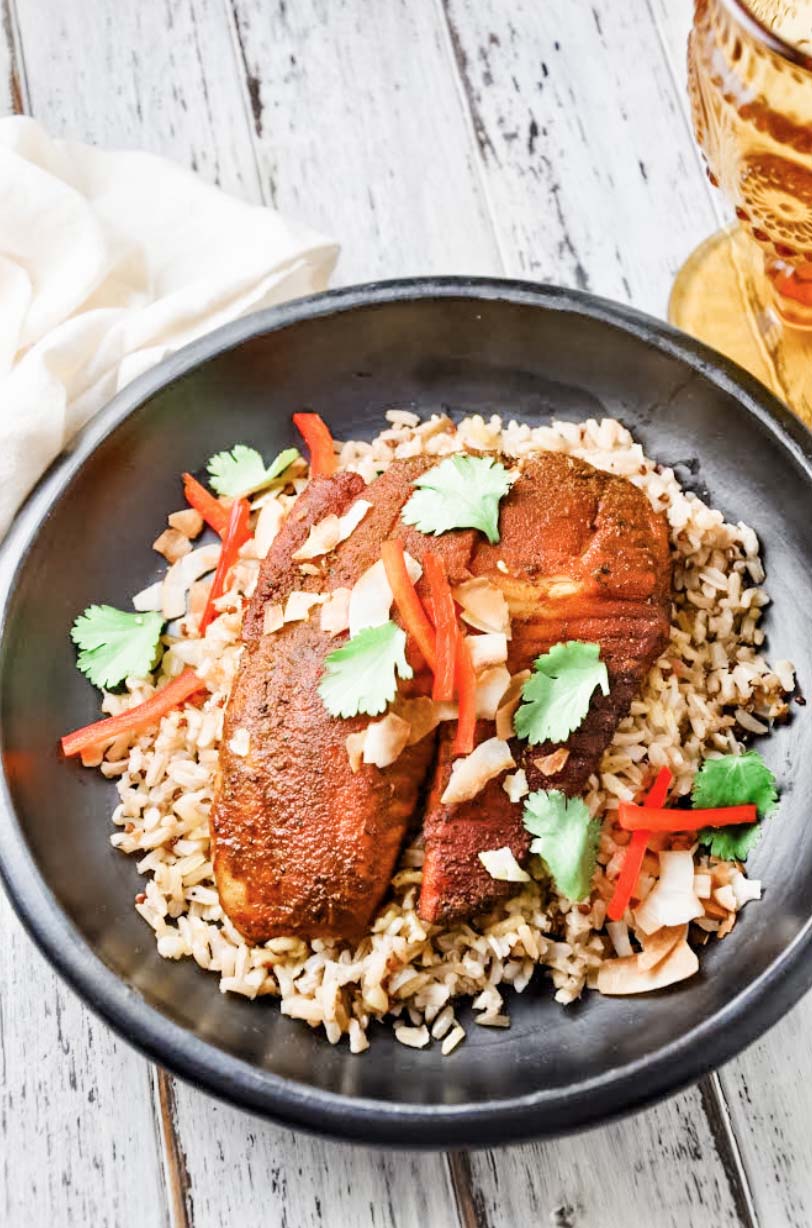 re's a delicious way to serve up white fish – with lots of spice and a sprinkle of pretty garnish!
I love all of the flavor in this ultra-healthy dish. White fish can be bland or even unpleasant tasting if not properly dressed, but you won't have to worry about flavor with this incredible spice blend. Serve over quinoa, rice or cauliflower rice for a tasty, satisfying, fitness dinner!
Recipe Ingredients
Servings:4
For the Spice Mix
1 tablespoon ground turmeric
½ teaspoon ground cinnamon
½ teaspoon ground ginger​
pinch of ground nutmeg​
½ teaspoon sea salt
½ teaspoon black pepper​
For the Tilapia
4 (6-oz) Tilapia Fillets
2 tablespoons coconut oil​, divided
¼ cup fresh cilantro
1 red bell pepper, seeded and cut into matchsticks
¼ cup Unsweetened Coconut Flakes​
Recipe Instructions
1. For the spice mixture: Combine all the spice mixture ingredients in a small dish.
2. For the tilapia: Rub the spice mixture all over the tilapia fillets.
3. Heat 1 tablespoon of the coconut oil in a large skillet over medium heat. Cook two of the fillets until golden and flaky, about 3 minutes per side. Remove from the skillet and repeat with the remaining 1 tablespoon coconut oil and the remaining two fillets.
4. Top with the cilantro, bell pepper, and coconut. Serve immediately and enjoy!
Nutrition
One serving equals: 291 calories, 11g fat, 447mg sodium, 4g carbohydrates, 2g fiber, 2g sugar and 21g protein.