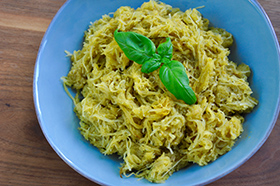 Anyone who has ever given up refined carbs in pursuit of fat loss understands what it feels like to crave a bowl of pasta.
And as much as you LOVE that salad and that dessert protein shake, once in a while, your craving for pasta is going to become too strong to control.
That's when this Fitness Fettuccine Alfredo rides in for the rescue!
It's creamy, dreamy, and oh-so-delicious…all while packing only 20% of the calories of classic fettuccine alfredo.
Seriously! The classic pasta dish contains 1,200 calories and 100 grams of carbs!! This fitness version contains less than 250 calories and 15 grams of carbs.
So go ahead, indulge in a creamy bowl of Fitness Fettuccine Alfredo with zero guilt!
What you need
Servings: 6
1 cup raw cashews
1 cup almond milk
2 tablespoons olive oil​
1 tablespoon garlic, minced
1 shallot, minced
1 tablespoon coconut flour​
½ cup veggie broth
1 can (13.66oz) coconut milk
1 teaspoon sea salt
¼ cup nutritional yeast​
2 cans (8oz) Palmini (hearts of palm noodles) drained and rinsed
1 tablespoon fresh parsley, minced
1 pinch fresh ground pepper​
**optional** parmesan cheese to garnish
Recipe Instructions
1. Place the cashews in a small saucepan. Fill with water to fully cover the cashews. Place over medium-low heat and bring to a boil. Drain the cashews and blend in a food processor with the almond milk. Set aside.
2. Place a large skillet over medium-high heat. Add the olive oil, garlic and shallot. Sauté for 3 minutes. Sprinkle with the coconut flour. Sauté for another 3 minutes, until the flour becomes golden.
3. Mix in the broth, cashew mixture, coconut milk and sea salt. Bring the mixture to a simmer and mix in the nutritional yeast. Mix until creamy and smooth.
4. Drain and rinse the Palmini noodles. Stir into the sauce. Once the noodles are warmed, remove from heat. Garnish with fresh parsley, ground pepper and (optional!) some fresh grated Parmesan cheese. Enjoy!
Nutrition
One serving equals: 242 calories, 18g fat, 14g carbohydrate, 5g fiber, 1g sugar and 10g protein.